In October 2021, the Portuguese Mint issued three commemorative "Varnish Art" coins from the Portugal and East series. Coins have the same design, denomination, and differ only in the metal from which they are made (gold, silver, platinum), diameter and circulation. The coin issue is dedicated to the art of lacquering, which the Dutch met through a meeting with residents of the Land of the Rising Sun.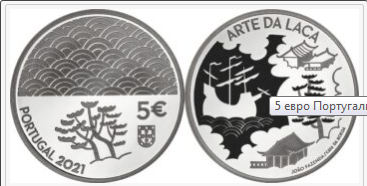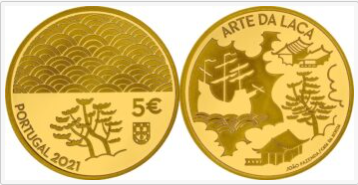 The upper half of the obverse depicts the sea in the form of fish scales in the traditional Japanese style. The lower part is decorated with Japanese matsu pine - a symbol of courage, resilience and longevity. At the bottom left of the rim are the name of the issuing country and the year of issue of the coin "PORTUGAL 2021." To the right of the pine is the face value of the coin "5 €," and under it is the coat of arms of Portugal.
The reverse on the left shows a sailboat inspired by the art of nambans. To the right in the center is engraved pine surrounded by Shinto temples. On top of the edging is the inscription: "ARTE DA LACA" ("ART OF VARNISH"). At the bottom right of the rim are the name of the author of the coin design and the name of the mint "JOÃO FAZENDA/CASA DA MOEDA."
In 1543, three Portuguese arrived on one of the southernmost islands of the Japanese archipelago - Tanegashima. They became the first European sailors to visit Japan. This event was marked by the beginning of economic cooperation between the countries. Portugal and Japan began to develop trade relations. Portuguese merchants sold to local residents unknown to this time a variety of goods - from ordinary soap and tobacco to firearms. In turn, the Japanese supplied their partners with one of the most popular national items - lacquer products (urusi), created by masters in ancient and complex technology, which was about 6 thousand years old.
Cultural relations developed between the countries. Under the influence of the Portuguese in Japan, the genre of namban art was formed. It was the creation of copies of European paintings in the Japanese manner. The material for the paintings was Japanese screens and lacquered products. The popular theme of the namban was the image of foreign ships and soldiers. Within the framework of this genre, Christian icons in the Japanese style were created. Two large collections of namban paintings and screens are kept in the Kobe Municipal Museum in Japan, as well as the National Museum of Ancient Art in Lisbon.